How to Get Rid of Jowls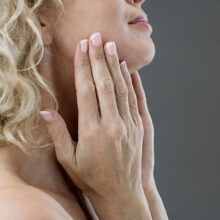 As we age, our skin can lose elasticity and become lax. The term "jowls" specifically refers to the development of sagging skin along the jawline and around the neck, which can obscure the contours of the face and make patients look older than they feel. Fortunately, a facelift from experienced facial plastic surgeon Dr. Albert Cytryn can help restore definition and create a tauter, smoother, and more youthful aesthetic.
A facelift is designed to help address many common signs of facial aging, including skin laxity, volume loss, fat displacement, wrinkles, fine lines, and muscle banding. This is accomplished by removing excess skin while tightening the underlying muscles and tissues of the face. As needed, liposuction can be employed to remove undesirable accumulations of fat, which commonly develop beneath the chin and around the neck. The end result is typically a more youthful appearance with improved facial contours and jawline definition.
For patients who are not interested in surgery, the appearance of jowls can sometimes be improved using dermal fillers. Hyaluronic acid-based products can help reduce the appearance of sagging by filling out the lax skin around the jaw and enhancing the contours of the face. That said, fillers represent a much more short-term solution to jowl treatment when compared with surgery, and they are most effective in cases where only mild-to-moderate laxity is present.
If you are interested in learning more about how to address jowls and other signs of facial aging, please contact us today. A friendly and knowledgeable member of our team will be happy to answer your questions and/or help you schedule a consultation with Dr. Cytryn.