Facelift vs. Midface Lift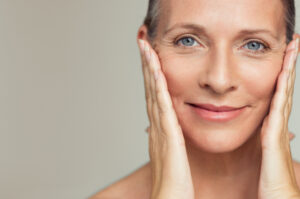 There are many popular facial enhancement procedures out there that can make you look years younger. For example, a facelift and midface lift are both anti-aging surgeries that can help patients achieve a more refreshed and rejuvenated appearance. If you are wondering which aesthetic option is right for you, it is important to know the differences between a facelift and midface lift.
A full facelift can address multiple signs of aging in the lower face and mid to upper neck region by doing the following:
Lifting and tightening underlying tissue and musculature
Removing fat under the chin and neck via liposuction
Redistributing fat to address lost facial volume
Excising excess skin
Redefining the neck contour
Reducing the appearance of severe lines and wrinkles
There are already many benefits to receiving a full facelift, but some patients may want to combine their treatment with other procedures, like blepharoplasty and brow lift surgery, for a more comprehensive result. When necessary, laser skin resurfacing and/or BOTOX® injections can be added to the facelift treatment plan to improve skin tone and texture while smoothing fine lines and wrinkles.
A midface lift focuses more on the middle third of the face, which includes the cheeks and under eye area. To create a more youthful appearance, the midface lift procedure usually addresses the following concerns:
Facial volume loss
Fine lines and wrinkles
Hollowness around the eyes
Under-eye bags
Lax facial skin beneath the cheeks (patients with loose skin in the neck may be better suited for a full facelift)
Since one of the goals of a midface lift is to make the face appear more volumized and youthful, the procedure usually pairs well with facial fillers. We typically recommend hyaluronic acid-based fillers JUVÉDERM® and Restylane® Lyft to add volume to hollow areas of the midface. Similar to a full facelift, a midface lift can provide many age-defying benefits to appear more refreshed and rested.
Your unique needs and aesthetic goals will help determine whether a facelift or a midface lift is the optimal choice to enhance your appearance. Right now, you may prefer one treatment over the other, but we highly encourage you to schedule a consultation with Dr. Albert Cytryn so that he can help determine which cosmetic option can deliver the best results.